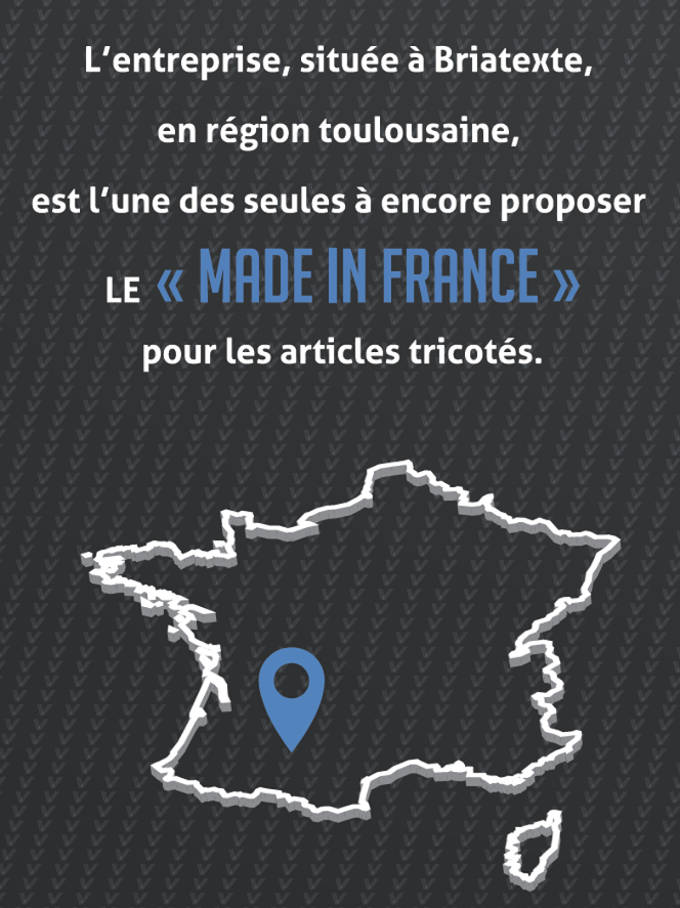 Personalized socks since 1947
Arguitex has a great deal of experience and knowledge in the manufacture of customised socks. So many years of creating this sports item have made the company a true sock expert. Commitment, passion, rigour and creativity punctuate the daily life of our employees and are an integral part of our company policy. The result: fully personalised products of exceptional quality, satisfied and loyal customers. Every day, we work hand in hand with them to imagine and create unique models, in their image, resistant and beneficial to the health of those who wear them.
A unique expertise in France
Thanks to a special loom, the logo is not printed but knitted together with sock. No textile elements are added, so the visual effect is more qualitative and the wear is much longer in time. Arguitex is the only French company to use this process, which makes it possible to produce top-of-the-range personalised socks of such quality. Differentiate yourself with unique equipment, a model in your own image that you will not see anywhere else. We are the ideal partner to make them happen, creating customised sports socks that look like you, that's our job.
Socks made in France
The mother company, Olivier Guille, is a French company, even a French institution. Its sports brand, Arguitex, is also a French company. Arguitex and its managers have always been committed to marketing 100% French products. Far from relocating and designing abroad, Arguitex socks are designed, manufactured and packaged in the Briatexte factory in the Toulouse region. This enables us to ensure the continuity of French know-how and the quality of our services. Working locally, promoting French expertise, manufacturing quality products, these have been our ambitions for over a century. And it works!
Arguitex, first-class sports equipment manufacturer
Our experience, specialisation in sock manufacturing and our in-depth knowledge of innovative methods enable us to fully meet all expectations and needs, both in terms of style and fit. The materials, the manufacturing process, the people, we aim for excellence in everything and everywhere. By concentrating solely on the sock, we deploy our skills year after year to achieve a result that is ever closer to perfection and that can be adapted to suit your needs. Our teams guide you in your choices, are available and reactive for a 100% successful collaboration.
Arguitex sports equipment
Because we have perfect control over costs and deadlines, and we offer unique models and their images, more than 800 sports clubs, both professional and enthusiasts, have placed their trust in us to date. We work directly with them so that they can benefit from a top-of-the-range product at the best price. Some customers have been working with Arguitex for many years, which is proof of their satisfaction. Because we manufacture high-quality customised socks, we are responsive and easy to contact, they show real loyalty and that is our pride!