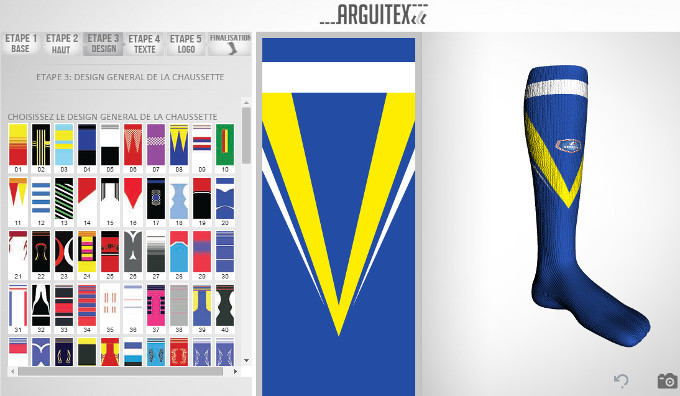 Don't remain anonymous, play the originality card and proudly wear your colours on the field! The personalized sports sock is the essential accessory that will allow your club to gain visibility and credibility, you will send back a professional and harmonious image. No more confusion possible, you will be identified as soon as you arrive and on the continuity of your exploits. Enhance and develop the feeling of belonging of your teams by making them benefit from personalized sports equipment of quality, comfortable but above all very aesthetic. Coloured and logoted in the image of your club, they will become a real banner, appreciated by your greatest opponents.
Design and Colors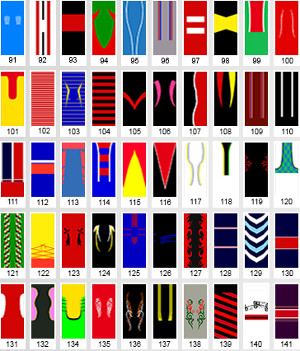 Thanks to a constantly renewed machine park and a unique manufacturing process, we create 100% customizable socks, or even made-to-measure if you wish. Choice of colours, designs, cut, shape, positioning of text, logo… The possibilities are endless, free rein to your creativity, your imagination and your desires. It's simple, you decide, we manufacture. For a complete sports equipment, accompany your club's jersey with personalised socks. Thus, dress your teams with the most beautiful accessories in the colors of your club, enhance its image through high quality products.
Sponsoring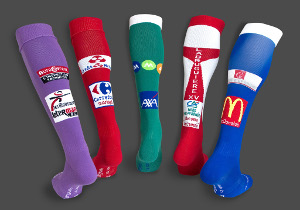 We also propose to integrate the logo(s) of your sponsors into the sock. Again, no printing or excess material! Included in the production model, the sponsor logos are knitted at the same time as the sock. Play the all-in-one card, high quality and without financial surplus! While traditionally, sponsors are present on the jerseys, differentiate yourself and attract attention by integrating them into your socks. They become a new location to sell to your partners so that they can be partially or even fully financed by them.
Creation of made-to-measure socks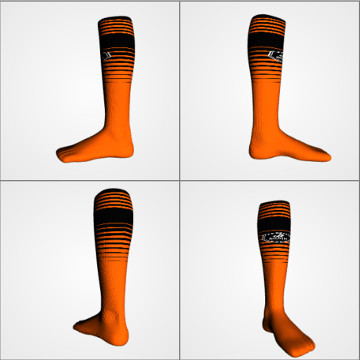 In the "Create your template" section, a configurator is available so that you can define the sock you need. You can choose the colours, designs, shape, etc. from a wide range of proposals. Moreover, if you don't find what you are looking for, it is always possible to create a 100% customised sports sock model. We don't set any limits to your imagination. In this case, we invite you to contact us to let us know your request and the characteristics of the desired sock. Listening to you, sensitive to your requirements, we will make the model of your dreams!